Benefits of Sage Intacct for Not for Profit Organisations
Benefits of Sage Intacct for Not for Profit Organisations
PBT is one of the leading partners for Sage Intacct Australia.  We have many customers in the Not for Profit sector, resulting in an in-depth understanding of Not For Profits (NFP) Accounting requirements, and how Sage Intacct is developed with these in mind.  
NFP's have specific needs often not considered in commercial financial solutions designed for the 'profit world'. NFP's can sometimes face additional layers of financial complexity, especially when dealing with donors, grants and the additional reporting they require.
NFP's are required to deal with all this complexity while adhering to smaller administrative budgets. All of these issues create a unique need for software to meet the needs of many NFP sectors including:
Educational
Human services
Philanthropic
Healthcare
Faith-based
Membership-based NFP's.
No more spreadsheets
Sage Intacct eliminates the need for multiple spreadsheets and manual reconciliations.  It replaces those with a unique multi-dimensional accounting system that will reconcile transactions and statistics across multiple locations, currencies, grants, donors, and more.
Multi Entity / Multi Divisional Reporting
For the NFP that face the complexities of multiple entities or divisions, Sage Intacct offers powerful tools to bring everything together in one platform. Each division can have access to their data and run as their own unique entity.  In addition all financials can simultaneously be integrated into a single general ledger. New entities can inherit existing lists, definitions, and charts of accounts from the central office.  They can also be easily configured with custom and unique parameters. Sage Intacct can automate the work of consolidating all the accounts from across the divisions, especially in terms of financial reporting, inter-entity transactions, and statistical reporting.
Centralised Control & Distributed responsibility
Sage Intacct accounting software helps balance a not for profit's unique need for centralized control and distributed responsibility. While allowing flexibility at the local level, the platform provides for the management of many dimensions such as:
Funds by grants
Donors
Programs
Location
…and many other dimensions
It also offers tools for budgeting by event, campaign, program, or funder. Budgets can also be managed by any dimension.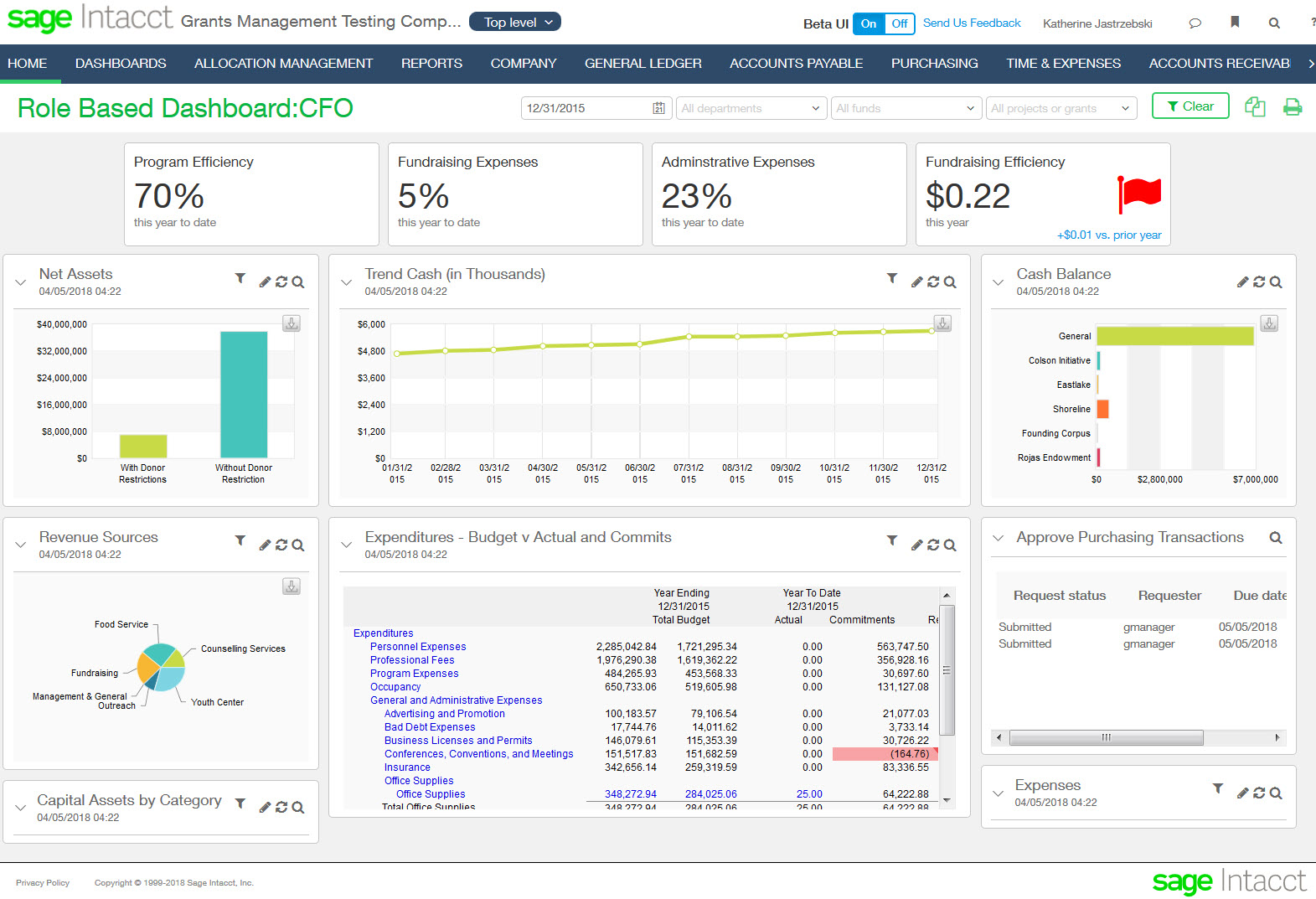 Fund Accounting for Donor / Grant Management
Sage Intacct has specialised capabilities to streamline financial management of donors and grants. This enables organisations to handle the financial processes, reporting, and analysis from within the accounting software.  This eliminates the need of working with an additional platform or outside the system in Excel. Sage Intacct fund accounting can create separate closes for each source of funds, and specific reports can be created for each donor or grant.
Financial And Statistical Transactions and Reporting
Sage Intacct offers core accounting capabilities suitable for NFP's of all sizes and  complexity. The innovative general ledger account system provides a unique type of visibility, scalability, and flexibility. It allows users to view reports and dashboards across nearly any combination of drivers and metrics.  Sage Intacct accommodates statistical Chart or Accounts and journals, meaning key data can be captured and reported on. It can be mixed with financial data in reports to provide a holistic review of the organisation. This contributes to an experience of seeing transactions and reports through the unique context of the not for profit organization.
Pre-Built Templates
Sage Intacct comes with multiple pre-built Not for Profit report templates. This allows users who may not fully understand the details of the accounting process to still immerse themselves in relevant business data quickly. The software includes ready to use dashboards, graphs, and charts and pre-configured calculations to compute for KPIs.
Powerful Collaboration
Sage Intacct's Collaboration module provides an innovative solution to make decisions as a team, in real-time with a clear record of how and why decisions were made. Intacct's collaboration process allows you to see all messages related to a particular issue, transaction, budgets any other entity all in one place, giving you all the information needed to find a resolution. Think live chatter/chat for your business software.