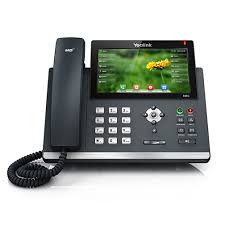 If you are considering implementing our recommended MaxoTel Hosted PABX system with VOIP phones, this page outlines the install process that we follow to transfer you to your new phone system and plan.
Step 1  – Confirm you have NBN, Maximum number of concurrent calls, Number of phones needed, and whether you need any other minor equipment.
You really need an NBN connection (or high speed internet connection) to reliably operate a VOIP system. If you don't currently have one, check in with us and we confirm what your options may be for a higher speed internet connection. Work out the number of phone calls you could have at any one point in time, and the number of physical phones you would need for your offices.
We can review your existing phone bill to explain the comparative pricing of the solutions, and how much money you are likely to save. And we will check your network switches to see if they provide power over ethernet, which means your new phones will get power from their network cable.
Step 2 – We will provide a proposal outlining:
the MaxoTel Plan for you to go on along
any additional charges for 1300 or 1800 number hosting
the type of SIP phones you should get and their pricing
an estimate of the implementation & configuration hours
a Managed Phone support agreement
Step 3 – If you proceed , we will initially setup a test environment using 3 to 5 Phones on a small plan. This allows us to get the basic setup and configuration in place, and then for you to test the system and become familiar with it. This includes messages, call queues, on hold music, phone call routing and number of the steps. When you connect your phones to your network, they will authenticate to a server, and pull down the settings they need automatically.
Step 4 – When happy with your setup and testing, the remaining phones will be ordered and your plan upgrade to the one with the appropriate concurrent calls and phones. The phones will be installed and will receive the same settings as the test scenarios. Guides on how to use the new phones will be distributed to your staff, and a staff directory loaded into the phones, along with some further customisations.
Step 5 – At a convenient time, we will put in a request to port your existing numbers to their answering points, and your new phones will just starting ringing. Your old system can them be de-commissioned , and your services with your existing provider terminated when appropriate.
Step 6 – Any support issues you can log a call with us, and we can log into your portal to assist with any configuration changes or trouble shooting.