Forecast Live: Fast efficient Forecasting & AR Automation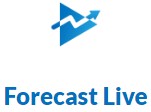 Forecast Live offers cash flow forecasting automation for Sage Intacct, Microsoft Business Central & Sybiz Vision. The software not only boosts team productivity by providing automated cash flow estimates and overdue notifications but also saves significant amounts of time, allowing businesses to focus on core operations.
Using machine learning, it pulls data from existing accounting systems to generate an accurate cash flow schedule, predicting both incoming customer payments and due expenses. This makes financial management both simpler and more precise. Traditional challenges like outdated cash flow plans and unreliable due dates are addressed with Forecast Live's direct synchronization with accounting systems and machine learning predictions based on historical data. The software also offers the ability to conduct "What If" analyses for cash flow and provides a user-friendly alternative to complex MS Excel forecasting.
In addition to cash flow forecasting, Forecast Live incorporates features for managing overdue debts and accounts receivable reminders. By integrating with a company's accounting data, the software can automatically send reminders to clients with overdue payments. This streamlines the payment follow-up process, making it less daunting and more efficient. The system categorizes outstanding accounts by age, and those with overdue payments receive an email reminder, which can be customized to fit the company's brand. Overdue invoices are attached directly to these reminders, eliminating unnecessary back-and-forth communication with clients. The platform also offers a comprehensive view of debtor information, making actions quicker and more informed. Further functionalities include easy customer access, flexible reminder settings, and the capability to assign tasks and notes against customers.