Give Finance a Debtors Management Tool with Forecast.Live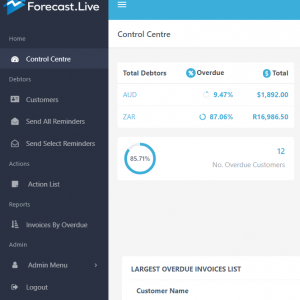 With direct integration to your accounting package, Forecast.Live is a unique web-based application that gives both cashflow forecasting and overdue debtors management all from one place.  
Combining automation and machine learning, Forecast.Live provides you with real-time, accurate information on what expenses are upcoming and when customers will pay.
Get rid of the Excel spreadsheets and time-consuming manual processes!!
Features of Forecast.Live

Central Debtors View
From the Control Centre, get a clear view of total debtors, current actions, outstanding balances and more.

Automated Debtor Emails
Create rule rules by age to automatically email overdue debtors. Set different email templates for specific messaging to different ageing groups.

Attach Invoice Copies
Invoice copies are attached to overdue emails so the customers have all the information they need to pay you quicker.

Customer View
View all your customer data from ne spot. View and group your customer into meaningful categories.

Flexible Reminder Process
You have the flexibility to send a reminder to all debors, or be specific and select individual reminders.

Customer Action Lists
Add notes and tasks, or a calendar appointment as a reminder of what has been discussed and what has to happen next.
What accounting packages does Forecast.Live Integrate with?
Give Forecast.Live a free trial!!
Get a 30-day unconditional trial of Forecast.Live. Its quick and easy to install and you can see for yourself how Forecast.Live will save you time.