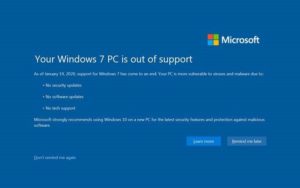 As we advised in the last quarter of 2019, Windows 7 was planned to be 'end of life' by Microsoft on the 14th of January 2020. 
It is important to keep your devices up to date and running the latest security patches, which is no longer possible on Windows 7.

That day has now come, and
 Microsoft are now displaying the following message on login to your PC.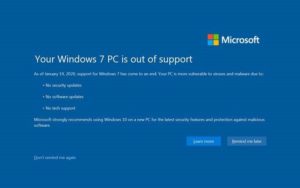 We recommend that all Windows 7 devices are removed from your organisation via one of these options:
If your device is within 3 years of age, there is a reasonable chance that it can have the operating system upgraded to Windows 10. You just need to purchase the Windows 10 Upgrade.

If your device is older than 3 years of age, you will most likely have to purchase a new PC or Laptop

If it's a device that isn't used anymore within the business, let's remove it from the network.
It's likely that we look to place a bulk order for PC's and pass the savings on to those clients requiring new devices. 
Please complete our online form below, or call us on 1300 720 767 if you would like us to look at your current situation and advise the most appropriate path.
Contact me about Windows 7