Sybiz Vision 16.22 (Vision.NET) is now available.
Sybiz Vision 16.22 (Vision.NET) is now available. As always though, please check with PBT to ensure there are no issues related to your site before upgrading.
If you normally have us come out and do the upgrade for you, please complete the online upgrade form and a consultant will be in contact to book a time.
Please find below a list of some of the new features, enhancements and relevant fixes.
New Features
Service Module
The first release of the Sybiz Vision Service module is now available. You can create a service item, log service requests and allocate material and labour costs to that service task. You can then work through to invoicing to complete the service.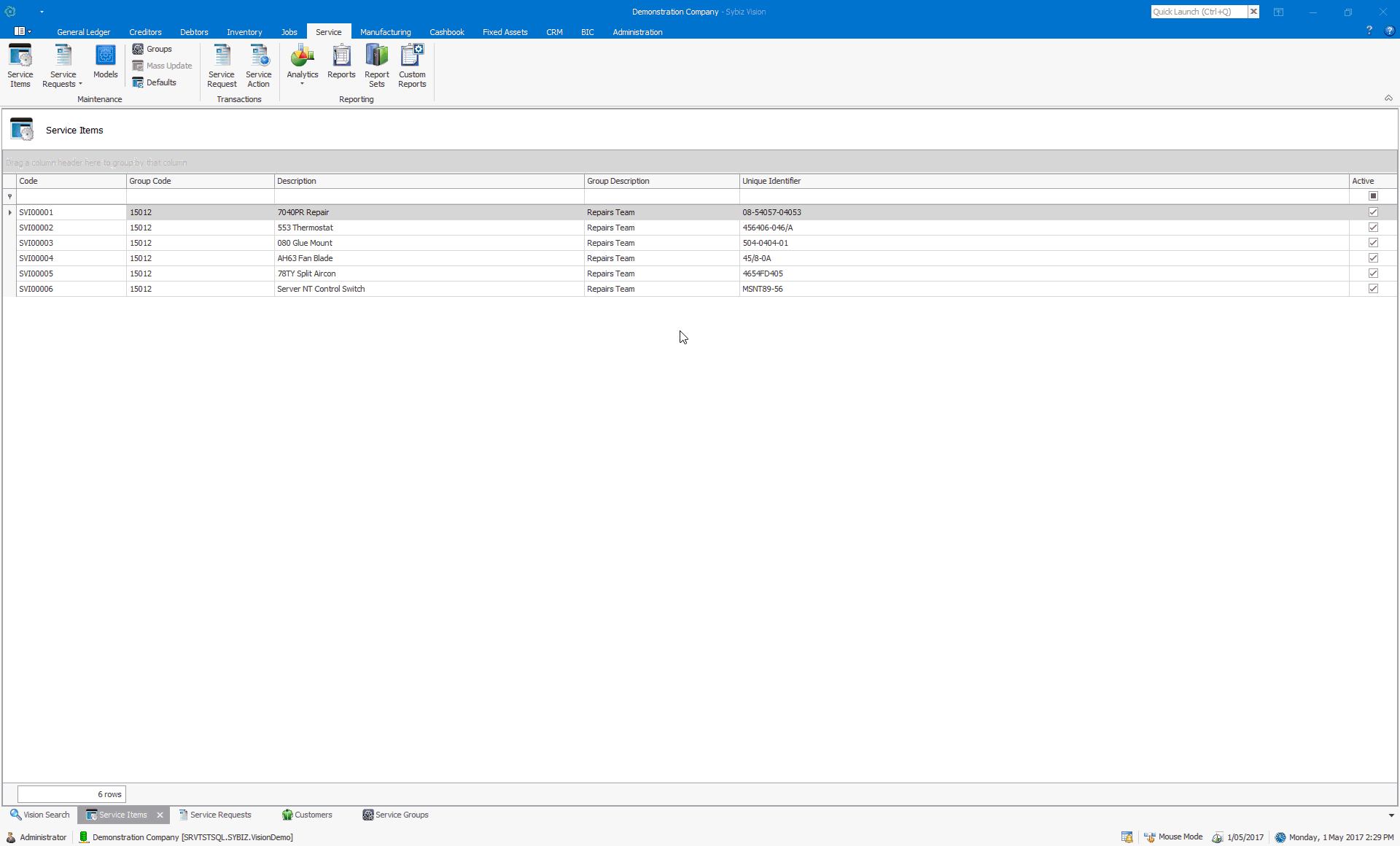 Use the Purchasing module to purchase Fixed Assets
By using the Purchase Requisition feature, you can now acquire Fixed Assets. These assets are automatically added to your Fixed Assets register.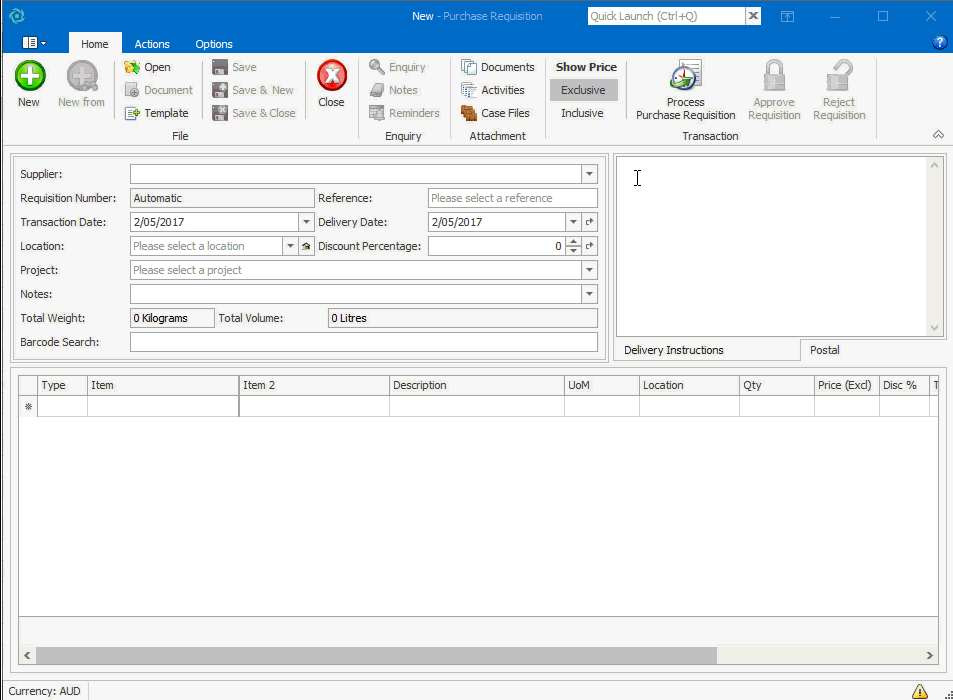 New Comparative P&L report
A new P&L report has been added to compare prior years.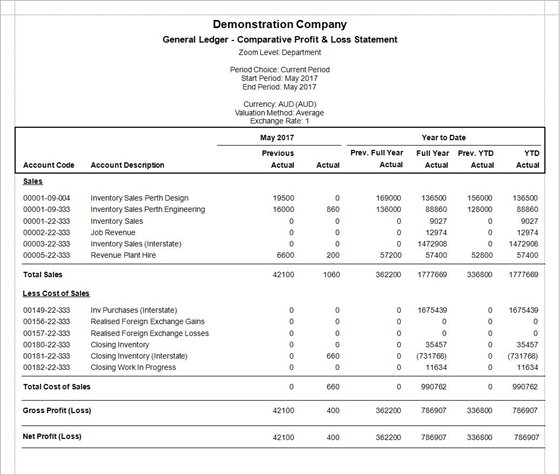 Ability to customise the Information Panel
On any transaction, you can bring up and information panel by hitting the F9 key. This information panel is now customisable and you can add or remove fields. You can even add additional tabs to add more information to the screen.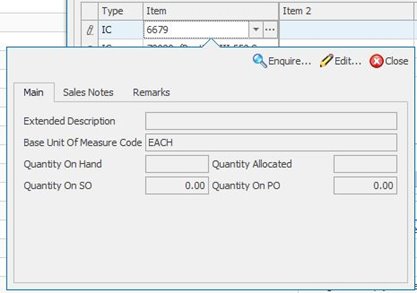 Barcode Import/Export
To make the process of inputting barcodes easier, Sybiz have added a function to allow a bulk import of barcodes using a product list spreadsheet.
Additional options for the Correction of Invoices
The additional options of delivery address and instructions and bank reconciliation end date can now be corrected.

 Head Office & Branch Offices
Branch offices can now inherit special prices from the branch offices. So, now you don't have to enter special prices for each office.
Direct posting of receipts and payment to Jobs straight from cashbook
From within the cashbook, you can now allocate payments and receipts directly to jobs.
Drill down from custom pivots to transactional data
Custom Pivots have been made even more powerful with the ability to drill down into your transactions.
Reduce time entering periodical bills
The "New From" functionality that is in many areas of Sybiz Vision has now been added to Periodical Bill.
Reversal of Lines on a Stock Transfer
On a stock transfer journal, you can swap the debit and credit lines to create a reversal of the original entry. You clear the transaction by selecting an offset.
Expanded Email Options
Sybiz Vision now supports Exchange, Outlook and SMTP email servers.
Enhancements
On purchase and sales transactions, you can now add more information
Additional fields Amount Paid, Outstanding and Due On (date) can now be shown on sales and purchase transaction documents.
Profit & Loss report now has a new budget field in
YTD P&L reports can be customised to add budget figures to the report. (CR160931203)
Order/delivery customer details now displayed on the Sales by Product report
You can see much clearly what customers have ordered and received. This is particularly good for head office and branches where the customer ordering and receiving may not be the same. (CR161131870)
Stock Fulfilment enquiries for Manufacturing
When in the manufacturing module and enquiring from the stock fulfilment feature, you can now see reorder levels and lead times. (CR161232215)
Outstanding quotes and orders reports has more filtering options
You can now filter by can now be filtered by the sales representative in Outstanding quotes and outstanding order reports. (CR161131876)
Jobs can now have Sales representatives and analysis codes linked
Analysis codes Sales representatives can now be linked to jobs to allow for more options with reporting. (CR160529868)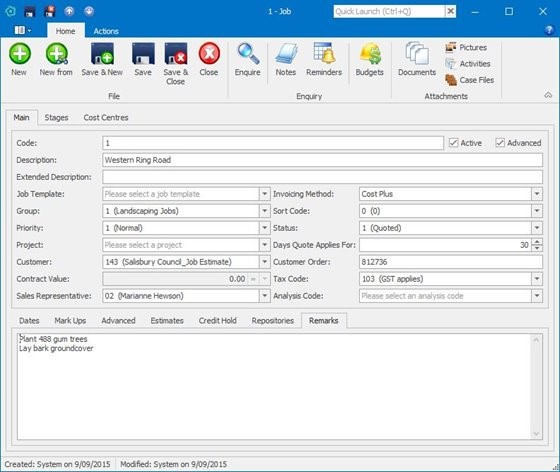 Better options for data entry of dates and times
You can use just the keyboard where times and dates are entered to improve speed of entry. (CR161232229)
Delivery date column now available in stock allocation
In the stock allocation screen, you can now display the order delivery date. (CR170232776)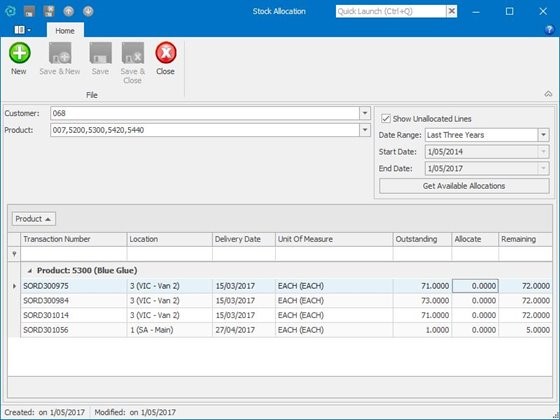 Back-to-back purchase order displays in the same order as the Sales Order
When processing a back to back order, the purchase and sales screens now display items in the same order. (CR170232746)
View Inventory Saved transactions
When saving customer or supplier transactions, if related to an inventory item, can now also be viewed by drilling down into inventory items. (CR161232349)
Options to duplicate pricing when using "New From" options
When you use the "New From" option, you have the choice to duplicate the prices or you can select to refresh prices if required. (CR160228528)
Purchase transactions now has Supplier's product code
You can now include now the supplier-defined product code on purchase transactions. (CR151227986)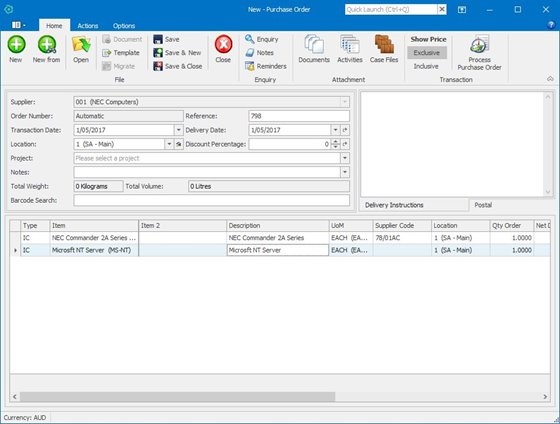 Discount on header of purchase transactions
Supplier discounts can now be set at the header of a purchase transaction to be applied across all lines. (CR161232155)
More data options in purchase and sales detail reports
Purchase and sales detail reports can now include codes, group codes and sort codes fields for jobs, accounts and products. (CR160931255)
More custom fields in Job estimates
Job estimates now support custom fields on headers as well as lines. (CR160228743)
Pay and Process now available for advanced jobs
Advanced jobs now has the pay and process feature. You can also process in combination with posting methods by stage or cost centre. (CR151027349)
Visual indicator if there is linked data
Buttons are now bolded to indicate there is linked information, such as attachments, notes, reminders or CRM activities. (CR150324876)
Add new lines to processed sales quotes
Sales quotes now accepts adding new lines after processing. (CR170232780)
More options for account information on invoices
Include total outstanding and overdue amounts on Sales invoices. CR161232261)
Fixes
Purchase invoice lines with equal positive and negative quantities of the same item now post correct accrual postings (CR170634115)
A rare divide by zero error that occasionally appeared on the customer enquiry screen has been fixed (CR170634212)
You can now edit the Stock allocation grid dynamically of allocated quantity and the reserve date. Only if the grid is currently read-only, a restore default layout is required. (CR170634225)
Import of fixed asset depreciation book now corrected. (CR170534047)