SQL Upgrade for Sybiz Vision & Visipay
With Version 23 of Sybiz Vision and Visipay fast approaching (due November 2022), it is important to ensure you are on the minimum version of SQL Server 2017.
PBT recommend you look at upgrading SQL prior to November to ensure a smooth upgrade process.  We also suggest  that rather than upgrade to the minimum version, you migrate to the latest version available to give you longer service life and greater performance.
To check the SQL version you are currently on within Vision & Visipay, do the following:
Launch Vision or Visipay and login to your company database

Once logged in at the very bottom in the status bar hover over your company name, a pop up will appear showing you the version of your current server

Select that version on the below form in this drop down list and submit – we will be in contact with you if there need to do anything further and what that is. (In the example below it is 2016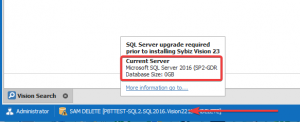 Please complete all required fields before submitting