What is new in the Sybiz Vision Version 23?
In Sybiz Vision 23, the minimum supported versions of Microsoft SQL Server have been updated from 2012 to 2017. If a user attempts to upgrade to version 23.00 with a version of SQL Server that does not meet these requirements, they will receive a message indicating that their database must be upgraded to a compatible version before the upgrade can continue.
For the best performance and longest lifespan, we recommend that users upgrading their Microsoft SQL Server choose the latest version available at the time of the upgrade, rather than simply meeting the minimum supported version requirements. Upgrading to the latest version will provide additional features and capabilities that can improve the performance of your system.
Read more about these new features and enhancements below.
If you are ready to upgrade, please complete the online upgrade form.
Major Security Extensions
Sybiz 23 introduces significant improvements to the security and integrity of business data. With this update, employees can access, edit, and manage system data in a way that ensures that the right people have access to the right information at the right time. This helps to protect your business data and ensures that it is only accessed by authorized individuals. As the needs of businesses continue to evolve, Sybiz 23 is designed to provide the tools and features necessary to keep your data secure and well-managed.
Advanced Service Management
Sybiz 23 includes an advanced version of its Service Management feature, providing added functionality for customers who require it. Like Advanced Jobs, Advanced Service offers the ability to create service invoices and credits. In addition, individual line items from service requests can now be invoiced and credited separately, using different tax codes or other requirements as needed. This added flexibility allows for greater control over the invoicing and crediting of service items. (CR190540967, CR201144895).
Mobile Sales App
The mobile sales app can be installed on any smart device from both Apple & Google Play.  Your field sales team and sales reps out in the field can create orders, review transactions and give them the info they need at their fingertips.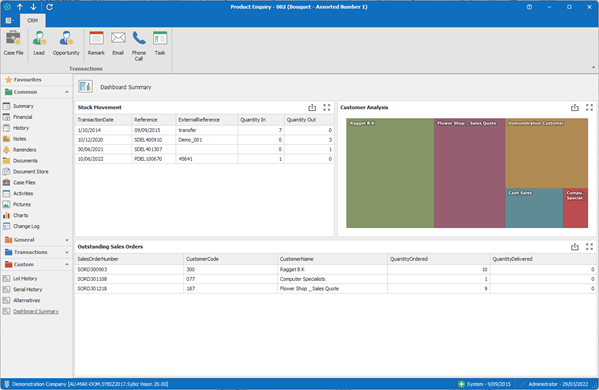 Easily add supplier details to TPAR Grids
Users can now easily add or edit supplier details directly from the TPAR grid. This allows for quick corrections to be made at TPAR reporting time, making the process more efficient and accurate. (CR2207-0889)
Offsetting in Quick Receipts
users can now quickly and efficiently offset charges against invoices using the Quick receipts function. This makes it easier to accurately record and manage invoice payments and charges. (CR210746625).
Smart Offset Function
This function in Sybiz 23 allows amounts to be automatically offset against the most appropriate invoice allocated to a customer in the system. This helps to ensure that payments and charges are accurately applied, reducing the need for manual intervention and improving the efficiency of the billing process. (CR210746625)
Add Credit Card Surges in Quick Receipts
The Quick Receipts allows for easy calculation of surcharge percentages on payments received when needed. To ensure that surcharges are correctly applied, tax settings will need to be adjusted to allocate funds as GST applicable or non-applicable based on the primary nature of supply. This applies to both Quick Receipts and Pay and Process. Upon upgrade, these settings will be based on the default taxable tax codes already assigned in Debtor Defaults. (CR200944552)
Timesheet errors have moved to warnings
In previous versions of Sybiz Vision, Job and Service timesheets generated errors if the time input exceeded the end date of the timesheet. This was intended to prevent user errors, but it could be frustrating for users who wanted to process a timesheet with times that did not exactly match the end date. In Sybiz 23, this has been changed to a warning, allowing users to process the timesheet even if the times do not exactly match. However, the warning will still be displayed in case of potential errors. (CR190540824)
Change Log is now available in CRM
In addition to the improvements to the Application Log, Sybiz 23 has also extended the Change Log to the CRM module. The change log icon can now be found on the CRM ribbon bar, allowing users to quickly see what has been changed in this area. (CR170634342) This makes it easier to track changes and stay informed about updates to customer information.
New and improved Application Log
The Application Log operates in a separate screen, allowing it to run and be searched while the user is using other parts of the software. The log can now be filtered by date range, rather than individual entries, and can also be filtered by column. These changes make it easier and more efficient to search the log for specific information.
Prompts for saved Job Costed and Service invoices
In Sybiz 23, if an invoice has been started and saved against a Job or Service item, a prompt will be displayed when the user reopens that item. This prompt allows the user to continue with the previous invoicing task, rather than starting a new invoice and creating multiple saved and unprocessed invoices for the same Service item or Job. This helps to avoid confusion and improve the efficiency of the invoicing process. (CR2205-0676).
New Look and Feel for Change Log
The Change Log in Sybiz 23 is now presented in a grid rather than in text form, making it easier to search, sort, filter, and apply date ranges. This speeds up the process of looking for changes and makes it more efficient to enter and view information. In addition, users can use the Ctrl + F shortcut to quickly find specific information in the application. These enhancements make it easier and faster to track changes and stay informed about updates to the system.
And there are many,  many more enhancements…..
To review the full list of enhancements, visit the Sybiz website.
Ready to upgrade to Sybiz Vision V23?
Contact PBT on 1300 720 767 and one of the PBT team will then be in contact with you to discuss as soon as possible.
Alternatively, if you are ready to upgrade, complete the online upgrade form.